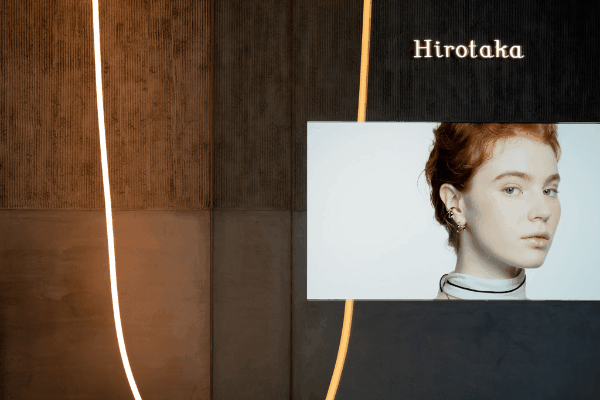 主要用途: 物販店舗
施工: D.BRAIN
クレジット: 照明計画:BRANCH LIGHTING DESIGN/店舗VMD計画:PALMETTO INOUE 井筒晶貴
所在・会場: 兵庫 神戸
延床面積: 70.73㎡
設計期間: 2021.5-2021.10
施工期間: 2021.9-2021.11
写真: 太田拓実
ウェブサイト: https://hiro-taka.com/

ジュエリーブランド「Hirotaka(ヒロタカ)」の表参道ヒルズと丸の内店、玉川髙島屋S・C店、東京ミッドタウン店に続く神戸店の内装計画。関西初の直営店として、神戸・旧居留地の路面区画が敷地となった。

店舗に入ると、ごつごつとした自然の岩肌や、積層で存在感を放つ、大きな原石から切り出されたオニックスの什器が目に飛び込む。また、2段に積み上げられた川石と1本のコールテン鋼のパイプが、アンバランスにガラスケースを支えている。中央のグラデーション塗装を施した木集成材の什器と、その奥の3本の丸太を組み合わせた什器が、ダイナミックな木目の面白さを伝える。赤錆をまとった高さ3mのコールテン鋼のうずまき状什器は、貝殻からインスピレーションを得ている。 既存のファサードは、全面ガラス貼りに一新。見通しが良くなった中、大きな什器で外からの視界をあえて一部遮蔽することで、店内をのぞきこみたくなるように設計した。モルタル左官仕上げの壁の上半分に施した櫛引き加工を店舗外まで伸ばすことで、ガラスで隔てられた内外の空間をつなぎ合わせている。緩やかな線を描く長さ3mのチューブ状ライトや大型モニターが、往来の人々の目を引く。

白やグレーを基調とした空間の中、それぞれの什器が存在感を放ち、コールテン鋼の錆や石の積層、木の年輪から悠久の時の流れが感じられる、アートギャラリーのような空間を目指した。
Principle use: SHOP
Production: D.BRAIN
Credit: Lighting design: BRANCH LIGHTING DESIGN / Shop VMD design: PALMETTO INOUE Maki Izutsu
Building site: Kobe, Hyogo
Total floor area: 70.73m2
Design period: 2021.5-2021.10
Construction period: 2021.9-2021.11
Photo: Takumi Ota
Website:https://hiro-taka.com/

Following the interior plan for the Marunouchi main store, the Tamagawa Takashimaya S・C store, and the Tokyo Midtown store of the jewelry brand "Hirotaka," we proposed the interior plan of the brand's Kobe store. As the first directly managed store in Kansai, the street facing store in The Kobe Former Foreign Settlement is the site for this store.

Upon entering the store, you will see an onyx fixture cut out from large gemstones giving off a strong presence with its rugged natural rock surface and layers. In addition, the river stones stacked in two stages and one COR-TEN steel pipe support the glass case. The laminated wood furniture painted with a gradation color in the center and furniture made by adhering the three logs in the rear area convey the significant expression of the dynamic wood texture. The COR-TEN-steel-made 3m-high whirlpool fixture covered in red rust draws its inspiration from seashells. Through the glass walls redesigned from the existing facade, people can clearly see the inside of the shop. Intentionally, the view is blocked from the outside with large furniture to attract people to look into the store. Extended the scratching finish applied to the upper half of the mortar plastered wall to the outside of the store, the finish connects the interior and exterior spaces separated by glass. A 3m-long-tubular light drawing an organic line and a large monitor on the exterior wall catch the eyes of people on the street.

We aimed to create a space like an art gallery where each fixture radiates its presence and you can feel the rust of COR-TEN steel, the layers of stones, and the passage of time from the growth rings of wood.